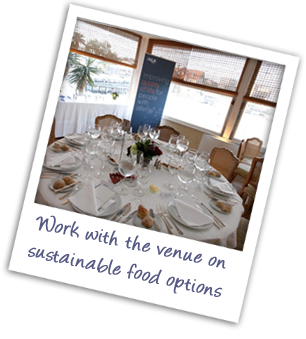 Sustainable Events
Sustainable event management is the process used to produce an event with particular concern for environmental, economic and social issues. Sustainability in event management commonly addresses environmental impacts of the production, the impacts of events on the community, and its economic legacy*.
An event can have an enormous positive and negative impact on the environment. We look at all the individual elements and work together with you, the suppliers and the venue to reduce the negative impact and create a positive difference.
All our events have sustainability in mind and we embed sustainability into the project management. We will work with you to offer and suggest sustainability initiatives which are better for the environment whilst not compromising on the quality of your event or the budget.
Examples include asking suppliers for a copy of their sustainability policy, working with suppliers for locally sourced, seasonal food, encouraging the use of public transport, encouraging the best waste collection and recycling options and working
with environmentally aware printers that have achieved the EMAS accreditation, as
well as ISO14001 and FSC.
Individual elements include: Purchasing, catering, energy, waste, water, transport, biodiversity, venue, accommodation and destination.
Where possible we follow the BS8901 Standard for Event Management.
(*Source http://en.wikipedia.org/wiki/Sustainable_event_management)
To view our Sustainability Policy, click here
To view our Contractor and Supplier Questionnaire, click here.
To view our "Responsible Meeting Tips", click here.

Green Moon Events is a Silver Company Member of the Environmental Association for Universities and Colleges (EAUC). www.eauc.org.uk